Wagah is a village in the Wagah zone and is known for the popular Wagah border ceremony. It is located in the zone of Lahore, Punjab and Pakistan. The town is also known for a railway station between India and Pakistan. The border of Wagah is very near to Amritsar and Lahore and lies between them. The village lies around the Radcliffe Line which separates Pakistan and India.
Top attractions of Wagah
Wagah Border
The Wagah Border is fundamentally a road border between India and Pakistan. This place can be considered as a very famous tourist spot owing to its beating retreat ceremony which is held every day just before sunset. What is quite interesting to know that more or less 5000 people visit this border to be a part of this ceremony.
Golden Temple is also known as the Swarna Mandir. This shrine was designed by Guru Arjan Singh. On an annual basis, this temple is visited by a great number of people around the world. What is really interesting to know about this place is the fact that the foundation of this shrine was laid by a Muslim saint by the name of Hazrat Mian Mir Ji. Read More...
Gobindgarh Fort
This Fort is responsible for echoing the grand stories which are from the Punjab's past. And more or less it is also widely known as a symbol of the era. The time when Punjab was forged representing its glorious past spanning a period of 257 years.
Also Read: Known significantly as the city of temples and for several UNESCO World Heritage Monuments
Things to do in Wagah
Goindwal Baoli
Fundamentally a step-well, the Goindwal Baoli was constructed in the 16th century by Guru Amar Das. It is located on the banks of the River Beas and is also a very important Sikh centre. What is really interesting about this place is the fact that it is one of the first Sikh pilgrimage sites.
The Harike Wetland & Bird Sanctuary is also the largest wetland which is situated in North India. What is interesting to know is the fact that this man-made wetland spreads into the Tarn Taran Sahib, Ferozepur and Kapurthala in Punjab. This place is undoubtedly one of the most famous destinations for bird watchers as well as nature's enthusiasts. Read more...
Khalsa College
The Khalsa College is fundamentally an ancient college. This 300-acre campus owing to its amazing track record has acquired the status of the highest institute for education showcasing an enriching environment.
Best time to visit Wagah
The best time to visit Wagah is from the months of November to March. The weather during this time is quite pleasant and more or less a very ideal for sightseeing.
How to reach Wagah?
By Air - Amritsar airport is the nearest airport from Wagah. From there, a person would have to get a taxi or some other means of transportation to reach one's destination.
By Road - To reach Wagah via road you can hire a cab, drive yourself there or take a bus.
By Train - The connectivity via train is also quite good. So, if you want to reach Wagah via train then you can opt for the nearest three railway stations such as the Attari, Khasi or the Amritsar Junction.
You can plan your trip and create your own route to the city with Adotrip's technically driven circuit planner. Click here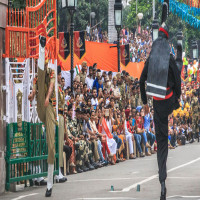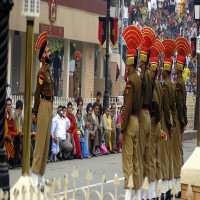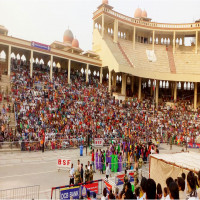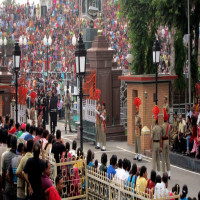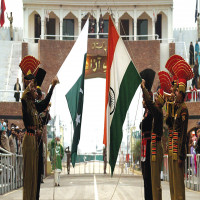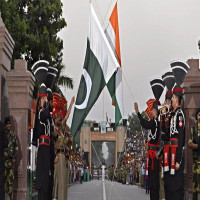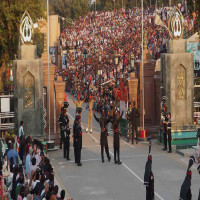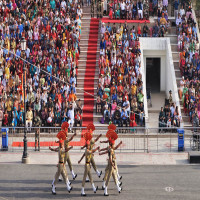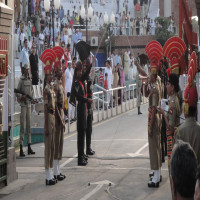 Accommodation
Destination
Meals
Transport
Overall