Visiting Ooty was quite an interesting experience for me. It was the other day that I was discussing my plan to spend the summer vacations with my friends. And all of them suggested me with different ideas. But I liked Aman's idea the most. He told me about Ooty and being a person who had travelled many places, this idea instantly clicked my mind. In the Tamil Nadu region, Ooty is one of the most popular and an quintessential hill station to explore. And being a hill lover I knew this place was for me. And did you know that Ooty is also famous with various names and is also considered as one of the dream destinations for everyone in India? Exploring the gorgeous lakes, dams, gardens and many other historical places was quite an amazing experience for me.
Places to visit in Ooty
Nilgiri Moutain Railway
When I saw this place, instantly I was taken back in time when the movie Parineeta was released. And when I boarded the toy train for the first time, I felt so happy and so excited that I cannot describe the feeling in words. To share some facts I would like to tell you that the toy train covers an area of around 46 km in a span of around 5 hours. And after getting free from here I went further to explore the unexplored Ooty.
Ooty Lake
The vastness of the skies and the wide expanse of the waters simply stole my heart. Standing there I felt like I was watching some dream-like scenario. Everything ranging from the boats, the trees to the mountains standing tall in the backdrop of the picturesque view simply mesmerized my soul. All I can say that my eyes were fascinated by what they saw and I will always remember my visit to this incredible place.
Ooty Botanical Gardens
The botanical gardens in Ooty are one of the most interesting places which I had visited in the past. Yes, the truly mesmerizing aura of this place was so enchanting that I felt simply blow away. Doing some research helped me know that this vibrant place had 127 species of ferns and the Italian garden here was laid down by the prisoners of war from the 1st world war. And knowing such incredible facts about the Ooty Botanical Gardens made me realise that there is just so much to explore about our country. With the hope to do so, I left this place.
Also Read: Situated on the confluence of Sarayu and Gomti this pla...
Things to do in Ooty
Thread Garden Ooty
I had never seen such as thing such as the thread garden in Ooty. This place has one of the largest and also the best collection of artificial flowers. And the mastermind behind this place was Mr. Amthony Joseph who took 12 years of time to convert this place into a reality. What I found that this place was covered in natural flora and is also termed as the "Millenium Miracle". I could see a lot of foreign faces from various countries who were seeming to equally excited as me.
Visit Emerald Lake
The Emerald lake is located in a region which is also known by the name of the "silent valley". Feeding the fish who had gathered along the banks was something of an experience which I will never forget. I really liked watching them gobble up the entire food. After that, I decided to just sit under a tree and have some alone time and see the birds. I have to say that if you are a bird lover then visiting this place would be an heavenly experience for you.
Events and festivals in & around Ooty
The Dhanu Yatra is a drama based theatrical performance which takes place in Bargah. This place is the largest open-air theatres in the world. It also has been named in the Guinness Books Of World Records for the same. Watching this depiction of Krishna's story is truly a spiritual experience for any person. Read More..
The Puri Festival is celebrated in the month of November on an yearly basis for a period of five days. During this time, there is always a delightful celebration in which people participate with great enthusiasm. It is all about showcasing the cultural heritage of Orissa. Read More..
Best time to visit Ooty
The best time to visit Ooty would be from the month of October to June. During these months the temperature remains at around 25 degrees. However, I had visited Ooty during the summertime and found the weather to be quite okay during that time as well.
How to reach Ooty?
By Air - The nearest airport is in Coimbatore which is located at an approx distance of 88 km. From there, you would need to get some sort of transportation like a cab to reach your destination.
By Road - I had driven all the way down to Ooty. And the best part which I found during my trip was the beautiful sceneries which I came across during my way.
By Train -The nearest railhead is the Mettupalayam. From there, you will need to either hail a cab or some other means of transportation to reach your desired destination.
You can plan your trip and create your own route to the city with Adotrip's technically driven circuit planner. Click here

3 Days

Hill Station

Tamil Nadu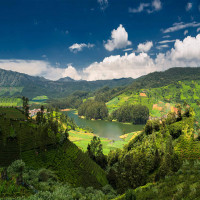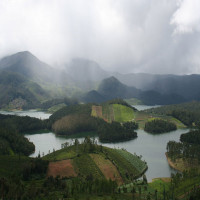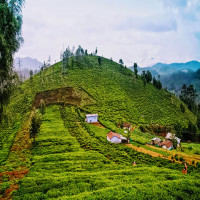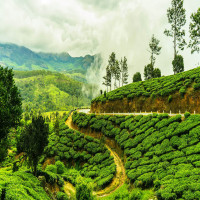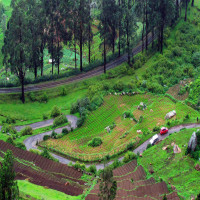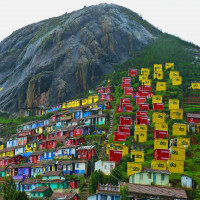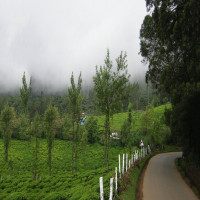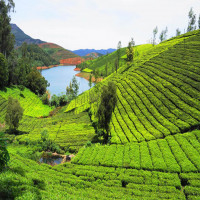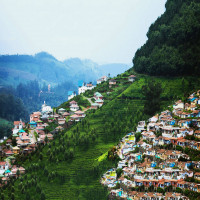 Accommodation
Destination
Meals
Transport
Overall