Namchi also known as Namtse is the capital of the district of South Sikkim in the state of Sikkim. The meaning of Namchi is Sky in the language of the state. There are many monasteries and pilgrimage centres in the city which has eventually made it a tourist spot for people from all around the nation. The world's largest statue of a Buddhist Padmasambhava is on the hill which is opposite to Namchi. There are many other tourist attractions in and around the place. There is a rock garden, places to view the world's highest peak of Kanchenjunga. The government of Sikkim is taking initiatives to promote the place for its cultural and pilgrim significance.
Places to visit in Namchi
Siddeshwar Dham
The Siddeshwar Dham is considered as a huge pilgrimage complex and is quite popularly known as Chardham. This place is spread over an area of 29 hectares and consists of a 108 feet tall statue of Shiva. For the people who are spiritually inclined, this place is no less than a heaven.
Sai Mandir
The Sai Mandir is a Hindu temple which is located at Assangthang area if the Namchi in Sikkim. This place is also considered as one of the most popular pilgrimage places in Namchi. It was built in the year of 2010 and has been dedicated to Sri Shirdi Sai Baba.
Ngadak Monastery
The Ngadak Monastery is also located in Sikkim and is also known as the Nandak Gumpa. It is one of the oldest monasteries in Namchi. This place was built in the 17th century by Tensung Namgya which was the time of the reign of the Chogyal Gyurmed Namgyal.
Also Read: A holy pilgrimage for Hindus and one of the Char Dhams located on the banks of Gomti river
Things to do in Namchi
Tendong hill
You can visit Tendong hill which is out and out an amazing place to see the natural scenic views of nature. The meaning of Tendong is an upraised horn and this place is simply brilliant to visit with your loved ones and create long-lasting and cherishing memories.
Kitam Bird Sanctuary
You can also visit Kitam Bird Sanctuary. This place is a wonder of nature and offers a considerable variety of wildlife animal species. This place lies somewhere between 1200 and 3200 feet above sea level. Moreover, in this sanctuary, you will be finding two rivers namely Manpur river and River Rangit.
Rvangla
You can also visit Rvangla which is a small hill town situated in South Sikkim. It is located at an altitude of 7000 feet as it is one of the most picturesque places to visit in Sikkim and experience its travel and tourism sector.
Events and festivals in & around Namchi
India is known for its wide variety of festivals. It won't be wrong to say that this festival is quite a famous one in the whole of sikkim. In this fair, different variety of flowers are displayed in the fair. More than 30 species of Rhododendron are displayed. Read More...
This basically a Buddhist festival which is celebrated somewhere between the months of February and March on the Gregorian calendar. In this festival, the Bhum or which is also known as the sacred vase is made out of various kinds of sacred soils, water and even the precious jewels. Read More...
This festival is celebrated during the time of harvest. Basically, it is a traditional festival of the Bhutia and the Lepcha tribe. Moreover, this festival also have been adapted from the traditions as well as the rituals of the Tibetan New Year Losar. Read More...
Best time to visit Namchi
The months from March to June can be considered as the best time to visit Namchi as the overall temperature during this time of the year are quite pleasant for sightseeing.
How to reach Namchi?
By Air - The nearest airport to Namchi is the Bangdogra Airport. It is situated at a distance of around 124 km from Gangtok and from there you would need to either take a cab or some other means of transportation.
By Train - If you are planning to visit Namchi via train then the nearest railway station is New Jalpaiguri railway station and from there you would have to take a cab or a taxi.
By Road - Namchi is quite well connected via road network. So, if you are planning to visit Namchi via road network then it would be a convenient experience for you.
You can plan your trip and create your own route to the city with Adotrip's technically driven circuit planner. Click here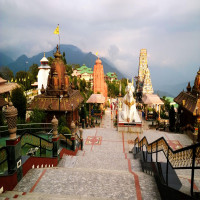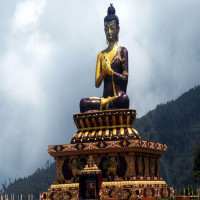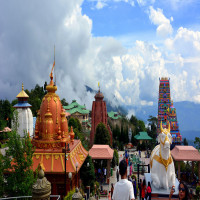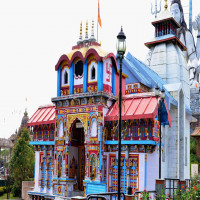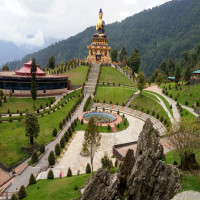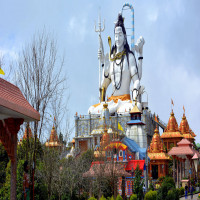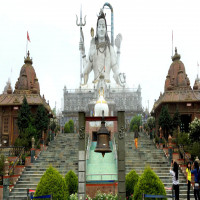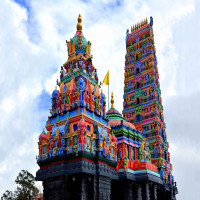 Accommodation
Destination
Meals
Transport
Overall