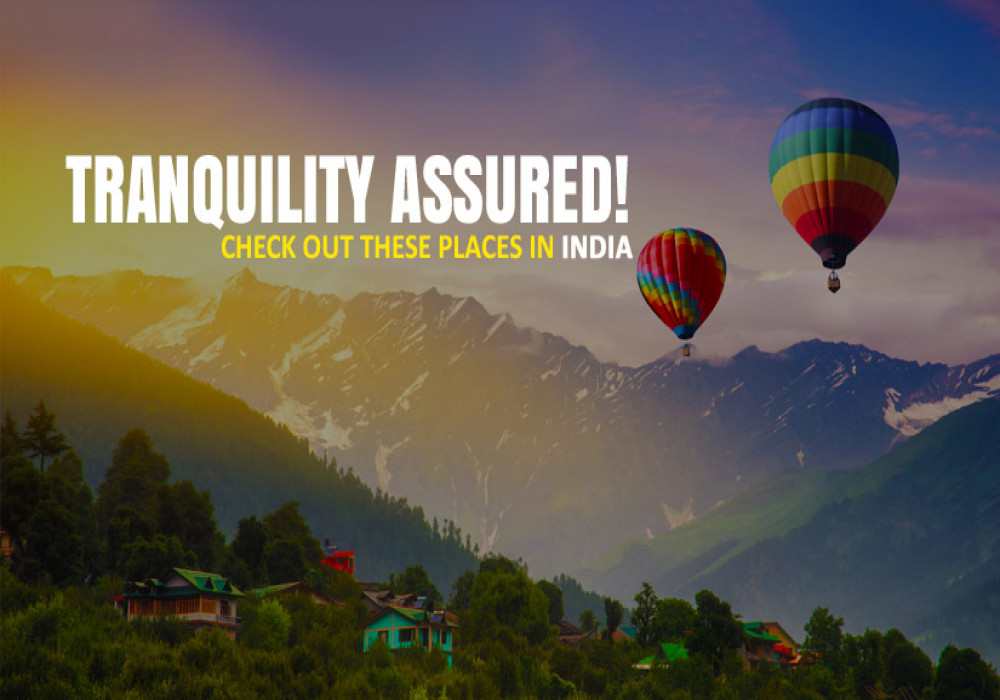 Tranquil - A Travel Guide | 10 Places In India To Immerse In Tranquil Atmosphere
It's pivotal to remain fully charged in a fast-paced life where dynamics change every moment. Sometimes meeting deadlines and objectives get really tough. Phew! Don't you need a break? It's a proven fact that a peaceful and tranquil holiday helps in unwinding and getting a fresh start.
So here's a dose of tranquility - a travel guide that includes 10 places in India where you can immerse yourself in a tranquil atmosphere.
Peaceful and Tranquil Places in India
SLOW DOWN! Scroll through the list of peaceful places in India where you are sure to get an escape from the cacophony. Mark and give us a shout because Team Adotrip diligently works on your choice of place and tailors out a fret-free trip!
1. Pangong Tso
Situated at an altitude of 4350 m, Pangong Tso in the Leh Ladakh region is indeed a serene and tranquil endorheic lake that attracts tourists from all over the world. One of the most spellbinding elements of the Pangong lake is its pristine water that keeps changing hues throughout the day. The tranquil view of this utterly beautiful lake will leave a lasting impression on your mind. You can spend hours gazing at the serenity of Pangong Lake and the snow-capped mountains that fringe around.
This place is also quite popular among bird watchers as it is visited by unique species of birds and photographers as it offers the most stunning backdrop which needs no photoshop at all. Don't miss the breathtaking sight of Pangong Tso if you are looking for a place to drop off your stress.

Best Time To Visit Pangong Tso: May to September which is the summer season.
2. Mcleodganj
Mcleodganj is a quaint hill station in Himachal Pradesh which is called the Little Lhasa. Nestled amid spectacular Dhauladhar ranges and home to many Meditation and Yoga Centres, this Tibetan town in India is an oasis of peace and tranquility. The idyllic beauty of Mcleodganj includes stunning vistas of picturesque landscapes, vibrant monasteries, beautiful trekking trails, and rejuvenation centers which are ideal for a peaceful vacation.
Best Time To Visit Mcleodganj: Summer months of March to June and the pre-winter months between September to November
3. Rishikesh
Popular as the Yoga Capital of India, Rishikesh is one of the best options for people seeking solace. Home to the holy river Ganges, you can actually immerse yourself in the tranquil vibe of the hill town that has everything to make your holiday worthwhile. Dotted with beautiful resorts, temples, meditation centers, yoga retreats, and a plethora of unwinding activities to indulge in; one can actually get a fresh perspective whilst basking in the serenity of Rishikesh.

Best Time To Visit Rishikesh: Winter months of October to February.
Also Read: 3 Day Rishikesh Itinerary - Guide To A Most Memorable Trip

4. Goa
If parties give you a kick then Goa is an ultimate destination where you can get back in party instinct. Also, Goa is a paradise to rejuvenate as the coastal region not only brims with the most spectacular shoreline where you can dig your feet in sand but also stay in peaceful resorts where tranquility is a confirmed agenda.
Right from famous beaches to flea markets, casinos, beach shacks, nightclubs, spa centers - the famous beach destination of India has everything to make you forget all worries.

Best Time To Visit Goa: From November to February
Also Read: 7 Most Famous Beaches Of Goa That Are Stunning And Breathtaking

5. Alleppey
Floating along with the richest bounties of nature while resting in the houseboat is peaceful and calming. Don't you agree? Alleppey is a place that offers a tranquil experience of backwater cruising. Also known as the Venice of the East - Alleppey or Alappuzha is one of the best places in India to enjoy the quaint and laid-back life of the village.
Fringed with coconut trees, paddy fields, and rice barges; every minute spent in Alleppey is truly tranquilizing.

Best Time To Visit Goa: October to March
6. Gokarna