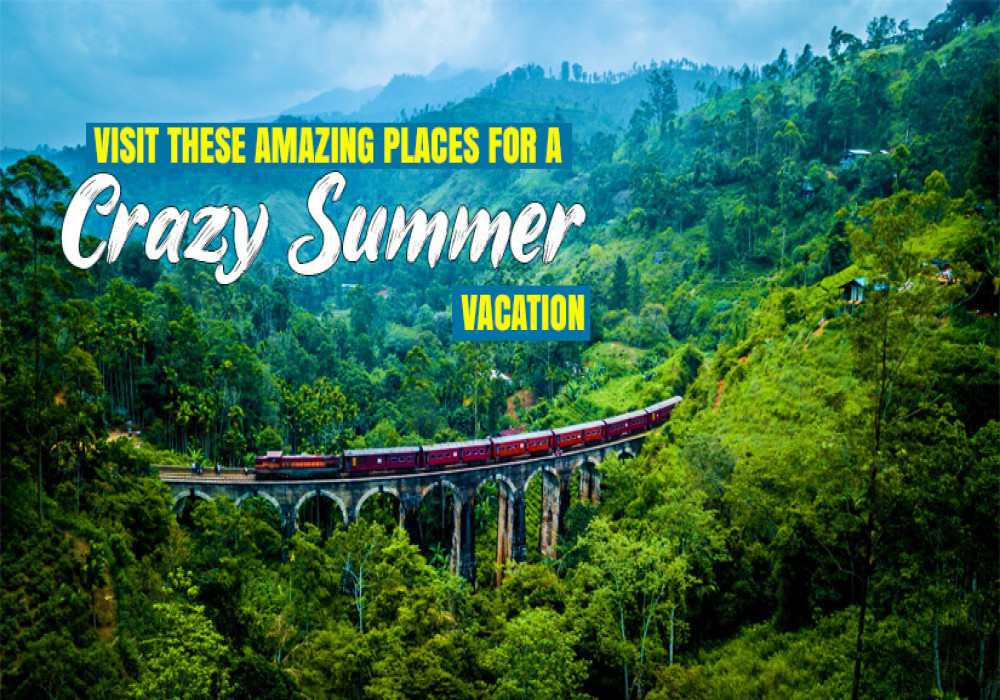 Quick International Getaways For Crazy Summer Vacations
Summer is just around the corner, and with summer comes extreme heat, sweaty clothes, bustling streets, and summer vacations! While looking for the best places to visit in summer outside India, we know how stressful it can be to plan a fun-filled trip. For the common people of India, traveling isn't a hobby, it is rather a way of life, a necessity to survive and beat the heat of the long summer vacations.
Several people think that going abroad for a vacation is an expensive activity and a tour outside of India is not their cup of tea. We are aware of this as we hear it very often. But don't you worry dude! Because Adotrip has curated a list of the best places to visit in summer, these places are close to India so that you don't burn a hole in your pocket but can still enjoy the best of summer.
Best Places To Visit In Summer For A Fun Summer Vacation
This list has been curated by our travel experts, so stick to this blog till the end to know about the places you can visit outside India during summer vacations.
1. Bhutan
Bhutan is ranked as the happiest country in the world because this last Himalayan kingdom boasts an amalgamation of peace, tranquillity, and serenity in one place. Bhutan is a neighbor country of India and hence, one of the best places to visit in summer at affordable local Indian expense. Bhutan might easy on the pockets but not on the views and experience; the country has natural beauty, unexplored terrains, thrilling trekking trails, dramatic landscapes, steep cliffs, and majestic Himalayan Peaks that you can explore.
Also Read: 15 Best Places To Visit in Bhutan
2. Bali
Beach vacations are always a perfect idea for summer vacations and Bali, is the most prominent for its turquoise blue beaches, the emerald of lush greenery, and amazing resorts that are destinations in themselves. Bali is an island in Indonesia that is one of the best places to visit in summer. It is the top destination for Indian travelers as the people of Bali welcome Indians with an open heart.
Also Read: Top 10 Places to Visit in Indonesia
3. Nepal
Nepal is a landlocked ancient country; that shares not just the borders but similar cultural and religious beliefs with India. It is a beautiful country that sits gracefully in the lap of the Himalayas and is a perfect destination for summer vacations. Indians don't need a passport or a visa to enter Nepal that makes it one of the best places to visit in summer. If you are making your way to Nepal, then be ready to be amazed by the snow-capped mountains, pristine rivers, scenic landscape beauty, and myriads of adventure activities.
Also Read: 10 Best Things To Do In Nepal
4. Singapore
Are you one of those who think that Singapore is a destination for the rich brags? If yes, then you need to check your facts, buddy. With the sudden spike in Asian tourism, Singapore has opened its doors for tourists looking to spend a few leisurely days in the country at affordable expenses making it one of the best places to visit in summer for Indian tourists. If your dream summer vacation is to spend time at a place that boasts modern skyscrapers, luxurious shopping malls, and thrilling adventures, then Singapore is the place for you.
Also Read: Top 15 Tourist Attractions of Singapore
5. The Maldives
How can we forget the oh-so-good Maldives? The islands of the Maldives oozes out luxury but don't think that it is a destination only for the rich. The Maldives is a paradise for travelers, more so for couples who love spending time on the overwater bungalows and pristine white sand beaches. More than 70 islands have been converted into private island resorts that offer direct beach access, snorkeling, private swimming pools, and water-sport facilities placing The Maldives amongst the best places to visit in summer.
Also Read: 15 Stunning Beaches of Maldives

6. Vietnam