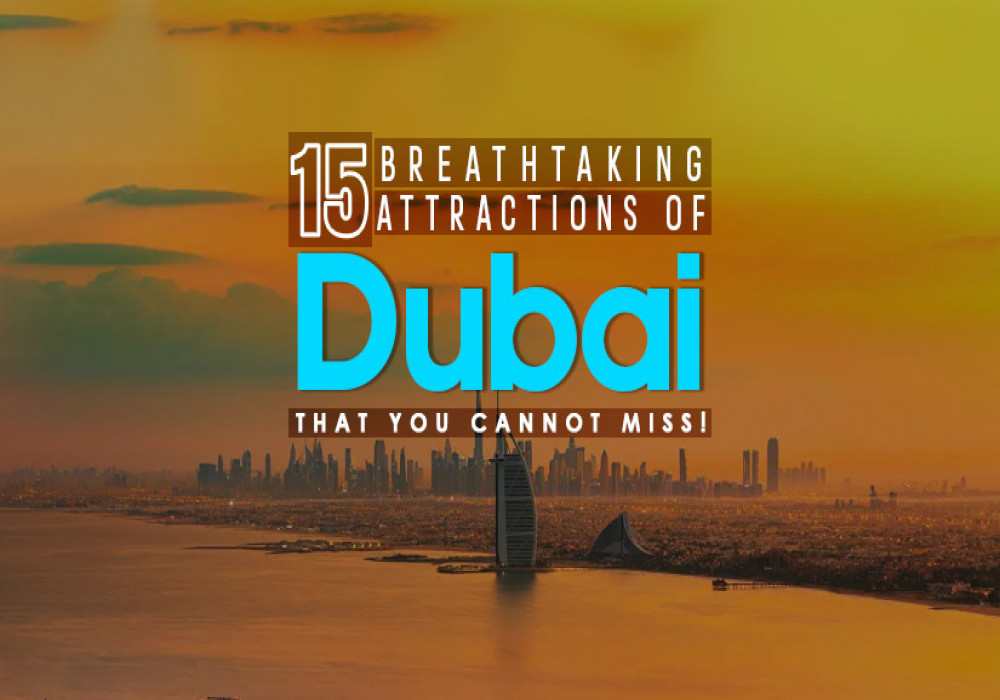 15 Famous Tourist Attractions of Dubai That Are Totally Unmissable
What if you get a chance to visit an overseas location that offers picturesque views and beautiful memories to cherish for a lifetime?

We're sure Dubai would be your first guess, and you'd take this opportunity happily. Dubai is a perfect example of a desert village turned into a magnificent city that lures tourists from all over the world.
Known for its architectural wonders, high-end malls, and luxurious hotels, it is a destination that will offer you a roller coaster ride of fun and entertainment.
15 Best Tourist Attractions Of Dubai in 2021
Here's a compilation of 15 famous tourist attractions that you can bookmark and visit during your trip to Dubai.
1. Burj Khalifa
Burj Khalifa, an architectural marvel, is the tallest manmade structure in the world. The 124th floor of the building offers a 360-degree view of the desert covering one side and the ocean on the other. The view is simply breath-taking and worth a memory that will stay with you forever.

2. Dubai Mall
Dubai Mall - one of the biggest malls in the world boasts of international brand showrooms, restaurants, cafes, and Dubai aquarium. A perfect place to eat, have endless fun with loved ones, and shop till you drop. Don't miss the Dubai fountain – the world's biggest themed fountain showcased every evening at 6 pm. Let your little ones have fun at gaming centers, educational parks, and the world's biggest candy shop in Dubai Mall.

3. Burj Al Arab
One of the popular Dubai tourist places built on an artificial island near the Jumeirah beach. It is the fourth tallest hotel building in the world that offers a breath-taking view of the Arabian Gulf. At night, it is beautifully lit up by choreographed lightning from where one can explore the famous attractions of the city.

4. Dubai Museum
Are you someone who takes an interest in the culture, history, and important facts of a country you're visiting? Visit Dubai Museum to know the story of how it rose from a Bedouin village to one of the most ultra-modern cities of the world. The museum is located in the Al Fahidi Fort, the oldest existing building in Dubai.

5. Dubai Creek
Dubai creek is a saltwater creek that divides the city into two main sections – Deira and Bur Dubai. It is a perfect spot to witness the traditional and modern culture of Dubai. Cruise down the Dubai creek to absorb the beautiful surroundings. You can also take a walk in the Dhow Wharfage area along the creek. Watch the sun go down, promising a new day to the beautiful city of Dubai.

6. Dubai Shopping Festival
Dubai Shopping Festival is an extravagant annual shopping festival that will be from 17th December 2020 to 30th January 2021. So, this festival can be the best reason for planning a trip to Dubai. It offers a diverse bouquet of shopping adventures and festivities clubbed with entertainment activities. Amazing fireworks display on an opening day along with attractive discounts, live performances, and jugglers keep the excitement flowing during the shopping festival.

7. Mall of the Emirates